Celebrating International Women's
Day at 10 Downing Street
by Cheryl Laidlaw
When I entered the F: Entrepreneur #Ialso100 campaign back in November I never imagined that I might end up at 10 Downing Street having drinks and Canapé with Theresa May on International Women's Day! I had the pleasure of going with Michelle Owens MBE the (founder F: Entrepreneur and small business enterprise expert who runs peak b) and Clare Talbot-Jones who also entered F: Entrepreneur (Founder of Tolbot-Jones Insurance)
Clare Tolbot-Jones is from the north east of England in Gateshead and made a trip down on the train that morning where we arrange to have lunch before we left for Downing Street having never met before.
After we past security we walked to Downing Street and straight into number 10 (with excitement and anticipation) . We had to put our phones in a numbered box and leave all bags and coats in the cloak room. Security then walked us through to one of her reception rooms upstairs.
We were given the choice of a soft drink or wine. I went for the wine! I needed it! haha
Clare and I decided to split up and network, there were around 100 women who were invited, so off I went to work the room. I spoke to lots of women! business owners, award winners, Google employees, speakers, scientists and app developers. Everyone had great energy and I have connected with everyone I met using social media and direct mail.
I also had the pleasure in meeting the Minister of Small Business (Kelly Tolhurst), Kelly really gave me a different perspective of parliament MPs. Kelly was so down to earth and authentic.
After an hour Theresa May joined everyone and worked the room. I waited patiently as she came over and said hello, slightly awkward but very nice. I froze, smiled and just looked at her, like an idiot! Michelle Owens MBE (founder F: Entrepreneur) said "it's the quietest she's seen me"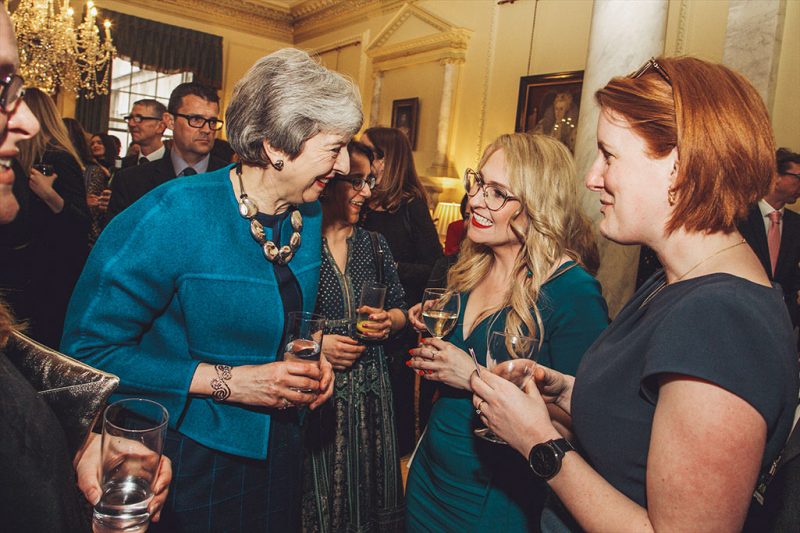 The Minister of Equality did the keynote. She encouraged us to get involved in human rights and spoke about the good things that Theresa May has achieved since being in power which included the new domestic violence bill that will outlaw economic and physical abuse and her fight to ensure parents will be prosecuted if they fail to prevent their daughter from genital mutilation (FGM).
The speech and the event came to an end. Clare and I held back with a few of the other amazing women that we had met so that we didn't have to fight for the famous photo outside 10 Downing Street. We were the last to leave and the last to get a photo.
It was a day to remember and definitely the highlight of my year so far. Clare and I will remain life friends and have already made plans for 2020 for a Gateshead visit. Yay!